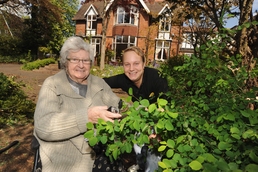 Date of article:

16-May-12

Kings Norton care home Ivybank has shown the advantages of developing strong relationships with local businesses, having been successful in getting a complete garden redesign under way thanks to the help of volunteers from agency Primetime Recruitment.

The enthusiastic team of more than 30 volunteers, from as far away as Birmingham, Walsall and Nottingham, has enabled the vision of expert designer Lucy Bravington to find fruition, which when complete will now include interactive areas and water features design to refine the qualities of the home's surroundings.

Delighted with the team's efforts, home manager Ann Norris commented: "We have been overwhelmed with the support from Primetime Recruitment and Lucy. It's fantastic that people are giving up their valuable time and resources to help us make the garden beautiful and interesting for our residents. I am thrilled that work has started on the garden and I will be delighted when we hold an official opening later on in the year."

Primetime Recruitment manager Ashley Ratcliff said: "When Anne mentioned they were looking to re-design the care home garden, everyone in the office wanted to do something to help. I came down to Ivybank with 20 of my colleagues, from across our branches, to help clear the garden in preparation for its transformation. It's only a helping hand, but we hope we have made a difference to get the garden project off to a good start."

The Bondcare Group currently operate 77 UK care homes, supporting residential environments for people with care needs that are homely and versatile towards both individual lifestyles and the aims and objectives of carers.